We discussed the art of negotiating with our personal lives, relationships, career choices, and time with ourselves. It's difficult always finding balance and sometimes it just feels good to get in with a group of ladies and vent, share ideas, and support each other during difficult decision making. The women below share their take on the conversation.
Thanks to our main sponsor Seda of Shopkeepers located on Florida and 13th NE. Cheers to Stacey of Dio Wine Bar for introducing the lady gang with organic wines and we look forward to your store opening soon! Hugs to Rose of RosieEats who concocted the best damn ice cream flavors. The evening was splendid with all of you all.
"I would say that being in this type of venue is the perfect example of what I need to work on, which is being able to negotiate and communicate with strangers. This is something I wanted to interject on because everyone was talking about their personal lives. For me that is so comfortable; I choose my friends and my loved one because I can talk to them and I can solve problems with them. It's still hard, but that's why they're my friends and my husband. But to just have that conversation with a stranger, which to me, is still very foreign or awkward. It is a vulnerability I really haven't explored because once I have found good friends I go "I'm keeping you by me!" Being here is making me realize that this is something that I need to work on and it's literally happening in front of me now."
"Tonight I'm most moved by how similar a group of strangers experiences are. How we are all trying to negotiate the same amount of time for ourselves, the same amount of negotiating we have to do in the work place and that it's a constant internal battle. It's nice to be a part of group of strangers and realize that my internal thoughts are other people's internal thoughts as well."
"Today I have been making a lot of big decisions today with my career and my family, and everything, and thinking that I don't owe anyone anything. I spent the last few years trying to please everyone else but not thinking about what I want to do, or where I want to be, or what I want to spend my time doing. I need to keep this phrase in my mind, that I want to owe it to myself to cultivate a life that I want, but I don't own anyone else their comfort and happiness."
"I found through this conversation it felt very welcoming and just free to express myself and not feel judged. I love that I'm meeting so many new people and they all seem friendly and open to getting to know me and that's not always something I feel when I meet new women on the street. It's nice to know there's a group of people who are also open to making new friendships and relationships. As far as negotiating I found that negotiating means so many different things to different people. Some people take it as negotiating their personal life with their careers and others are talking about how to present themselves to the world. I'm learning so much that one topic can mean so many different things to other people. It's opening my eyes that I can have these types of conversations with my own friends."
"This was an interesting experience. Anytime I'm with a group of women where we have the space to really communicate openly and honestly, I feel like you find the connections and you see how much we judge ourselves and struggle with some of the same issues and assume that people are judging us too. Both finding comfort in knowing that others feel the same and maybe looking into the mirror and thinking 'those people might be judging me,' but discovering they're really not, they're just dealing with their own issues. Opening that lines of communication and if I'm able to talk like this with a group of women I just met, how can I bring that into my existing relationships. Maybe we are skirting around issues or we have gotten comfortable and stopped being vulnerable with each other."
"I think women have a tougher time negotiating because society makes us face so many more factors beyond just professional but in our personal life. Both affecting the other. When we can openly discuss these obstacles, the hope is we will understand the value of us creating hard lines for ourselves and putting our foot down more often without the fear of judgement and pushback."
"I think what really stuck out to me was the shift in conversation. I got to see the shift in work versus personal life and I think the main thing that stuck out was the topic of 'what makes us, us' and what are some of our favorite things to do; to approach the conversation with a different kind of mindfulness. The one thing that I brought up tonight was something that I reflect on personally once in a while is asking myself 'how is my soul doing?' It's a different depth of identity. Whether that means I need to go look at some greenery or watch some kids laugh and chase each other, I just think those are life-giving moments to me. Hearing all of these women's struggles and experiences, and also joys in life, has been so amazing. I love that we're all trying to learn from each other, and asking where do we find joy, where do I find joy? I love that kind of collaboration our personal experiences are richer because of this space of sharing."
"What I was really excited about and looking forward to this conversation is that every single day what I do for a living is negotiating. So getting the perspective of women negotiating, what we bring to the table, which is so different from the real world, right? There are so many men that are always out there negotiating and they kind of set the rules for what the negotiation process is. What was interesting to me was how we do not cede our power in the negotiation process, but still be true to who we are and how powerful we are; that's something I struggle with all the time. The line between a bitch and a strong woman is so thin and so hard to straddle. I've really been inspired by the people that I've been speaking with tonight, just within the ways they approach things. It's not so much that they give no shits, but they're not letting it stick around. Give a shit about it, but then let it go kind of attitude and acknowledge that it's there and it's a problem in society, but let it go when you approach it. It's okay to be a little more calculated with what we do and to not be reigned by emotions. It doesn't make us less feminine and I've really like that."
"It was definitely nice to get a break from talking about work thanks to Eliza shifting the conversation. I think that I am in a place where I am thinking about my work. It's a big part of my headspace and what I think I need to do in order to make myself happy. It's also nice to get out of that for a night and sort of realize that there are other things to invest in that kind ultimately benefit your career. If you invest in yourself and give more time to improving yourself, it can ultimately be tied in with your goals with work. It's helpful to almost be forced to not think about it. Even though a lot of us here tonight seem very goal oriented. It is helpful to talk about that with other women. You want to feel validated, that you're ambitious. It's not a bad thing, but it's a good thing to have someone else say "Hey I don't really relate to this, let's not talk about this right now," and I respect that and it's helpful to have different lenses. I loved that I could listen I love absorbing other people. I only contribute when I really feel like I can share something. This is an intense situation – you are really on because you don't know anyone and it's all about taking it in and digesting. It's been a long time since I have been in an environment like this and taken out of your comfort zone and it's scary, but it's nourishing."
"One of the things I found interesting tonight was how different people were talking about negotiating in relationships or jobs, and realizing that everyone's different in their approach but at the end of the day it's about being sustainable for them. I definitely found it interesting that we get caught up in this fairytale idea of how things are supposed to feel and supposed to go, and maybe sometimes at the beginning that's how they go, but at the end of the day it's not necessarily sustainable. It's really empowering to see these women who have found sustainable ways to sort through things in relationships and at work and to say "this works for me and to sit down and have a real conversation and not feel the up and down turmoil of emotional anxiety. It's been cool to see what sustainable looks like for other people and have an honest conversation about that."
"I love creating food, dessert, and anything that I can create with my hands with I try to bridge myself out and do. So I wear multiple hats and I spread myself out thin. I work all the time. I kind of thrive on it at this point. I don't make time for myself and I have a huge social media presence that I can do everything if I set myself out to do it. I kind of like that, it's kind of a front – no one sees me not sleeping and stressing and having melt downs. What I've gotten lately is people saying, you know what, because of the work that you're doing I have gotten motivation or look up to you. It's strange to hear that from people but I'm embracing it. I want to be a strong person that people think, hey, she started at one route and now is doing something completely different and she's successful, but behind the scenes I also need to take care of myself and I don't do that often or enough at all. I just need to step outside sometimes. It's ok for outside people to see me as a vulnerable person and taking time off for myself."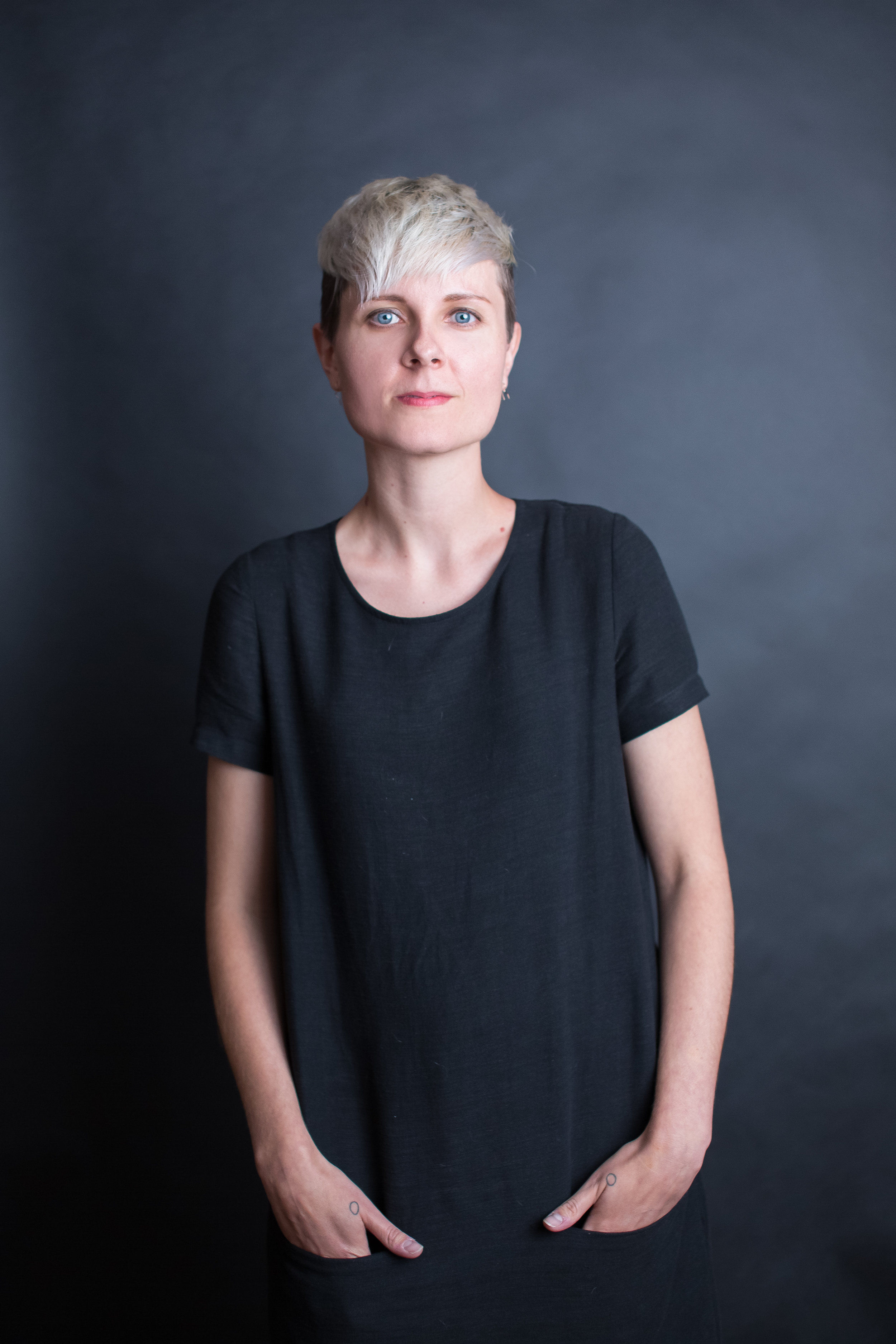 "Something that I'm reflecting on tonight is a sense of knowingness, that I have made the right decision in my life. It's a gift for me today. Seeing some of the women at the table I saw that for some, their jobs are really sucking a lot out of them. Trying something new can be lonely, but it gave me back so much of the life force that I felt that I had lost. And hearing that have and are experiencing the same thing has been very affirming."
"Coming here tonight and throughout the conversation I felt a little misplaced, simply because I still have a year left of school and everyone else is already out of school. And though I'm still balancing work and academics, I have had a lot of conversations about negotiating time with friends, I think the beautiful thing was sitting in the midst of women from so many different walks of life, and so many different experiences and realizing we're all wrestling with the same types of things. Realizing that it's not going to change, we're still going to be wrestling with these hard questions. Ten years down the road I know I'm still going to be battling with self-care, loving other people, working towards my career. And that's ok, and I'm confident through conversations like this that I'm going to be able to make steps. The experience of being with other women, has made me feel less alone even during this summer since it's been a period of wrestling to find myself. It's nice to be here tonight with everyone and find that I'm not only here in the world to just produce."
"For one, I really like this group and it's nice to be with a group of women with the intention of not wanting to attack each other, compare or size each other up. I feel like that's normal mode, even I would have to tell myself 'I'm not going to be jealous, I'm not going to be jealous,' but I think one takeaway is that it's kind of disheartening how much the struggles of being respected as a woman is universal. It's hard to know that so many people are not listened to or taken seriously because they are women. I was kind of hoping that that was only exclusive to science, but I think getting together and realize this is messed up, we can acknowledge and talk about it, I think that will help people to speak up and be louder."
"It's been an honor to be here. One thing I'll remember tonight was one of the participants coming back to the table and wanted to talk about something other than work. It gave us a nudge to talk about what's valuable in our lives, what's personal, what's specific to us that have nothing to do with our worth in the labor market. I was pushed to think and talk about places that we find power in our lives from walking around D.C. to being with friends and partners to people we take care of, to fighting for justice, just all kind of things that are valuable that we don't have to pay for."